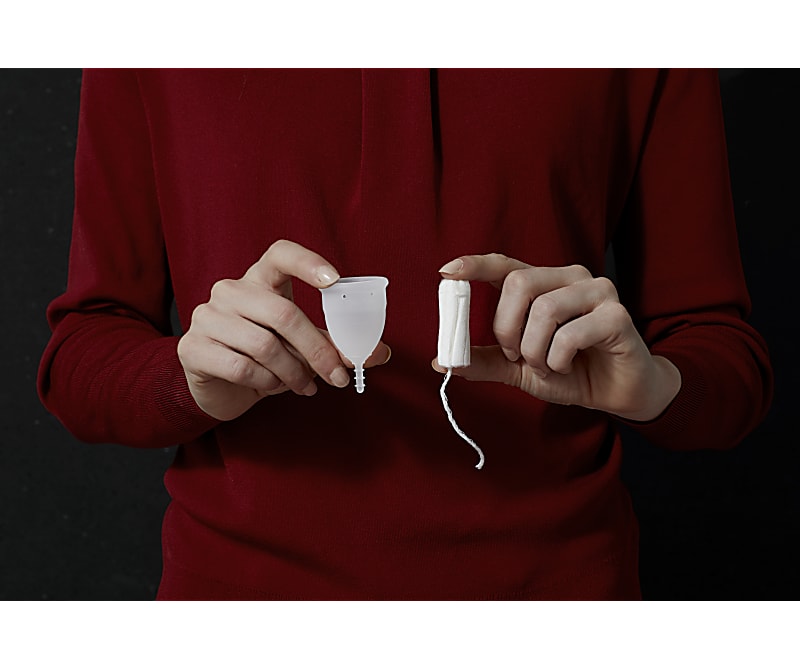 Menstrual Hygiene Day is 28th May 2020
For every OrganiCup Menstral Cup purchased on 28th May one will be donated, find out more here.
Cramps and bloating aren't the only side effects of periods. Over your lifetime, you're likely to get through around 12,000 tampons or sanitary towels. And as you're about to read, that can have a pretty significant impact on the environment.
Chemical waste
Tampons and pads are often bleached with chlorine. A by-product of the bleaching process is a chemical called dioxin. According to the World Health Organisation, dioxins 'can cause reproductive and developmental problems, damage the immune system, interfere with hormones and also cause cancer.' And they can linger in the body for up to 11 years…
Some studies have also found other toxic chemicals in sanitary products, including glyphosate (a highly toxic pesticide).
Not only are these chemicals horrendous for the environment, they're not exactly something you want sitting next to the most sensitive part of your body.
Plastic waste
Tampons and sanitary pads often contain plastic. Random we know, but true. The ones that do will never properly degrade (or not for a few hundred years at least). It's pretty horrific to think that by the time you reach the menopause, bits of the tampons you used as a teenager may still be languishing in landfill somewhere, or floating around in the sea. In fact, they'll still be there when your great-great-great-great granddaughter reaches her menopause. And don't get us started on the fact that many sanitary protection products are also individually wrapped in plastic, or have plastic applicators.
Your health and comfort
The chemicals found in most tampons and pads can irritate sensitive skin. Plus, the plastic isn't breathable, so it can make the problem worse.
So what's the solution? First off, let's look at reusable sanitary products…
Washable sanitary pads and tampons
ImseVimse products are made from organic cotton. You can choose from tampons, towels and panty liners, or stock up on a selection. You also have a choice of plain black, natural or a fun floral print. It may seem strange washing your tampons or towels after using them, but you'll get used to it pretty quickly. (And it's better than having them sitting in your bathroom bin for a week.) Plus, people often find cotton a lot more comfortable to use than disposable paper-based products.
OrganiCups are made from medical grade silicone and come in three sizes. Size A is for people who haven't delivered a baby vaginally. Size B is for people who have given birth vaginally. And the Mini cup is for teenagers or people who need a smaller size. Each cup can hold the same amount of blood as three tampons, so they're ideal for people with heavy periods. A menstrual cup can be worn for up to 12 hours at a time. Then you just empty it, wash it out and reuse. It should last you for years and costs the same as around three to four months' worth of disposable tampons.
Now, you may have seen articles claiming that misuse of a menstrual cup can increase the risk of a prolapse. OrganiCup responded with, "Our customers' safety is our number one priority. That's why we contacted a leading gynaecologist in Denmark as soon as we became aware of the article. He underlined that there is no scientific or medical proof that supports the claim. He also highlighted the report by the Lancet Public Health journal that concludes that menstrual cups are a safe option." You can read more about using an OrganiCup properly here.
Eco tampons and towels
Not quite ready for reusable sanitary products? You can still do your bit for the planet (and your health and comfort) by choosing organic cotton tampons or pads. As they're organic, they won't contain pesticides. And the ones we sell aren't chemically bleached. They're also free from perfumes, latex, dyes, petrochemicals and other 'nasties' that you'd probably prefer to avoid.
Natracare was one of the first eco sanitary protection brands. Natracare tampons are made from 100% organic cotton. The pads are made from natural cellulose and are over 95% biodegradable. They're all 100% plastic free and the packaging is either recyclable or compostable. Natracare also donates 1% of its turnover to environmental charities.
If even natural soap and shower gel cause itching or irritation, you may want to swap to a feminine wash. These are super-gentle and designed to respect your skin's PH.
Faith in Nature's Feminine Wash is hypoallergenic and free from soap, chemical preservatives, SLS, colours and other ingredients that can cause irritation. It's also enriched with organic aloe vera to soothe skin as it cleanses, and contains essential oils such as geranium. Most of our customers award it the full five stars.
Bentley Organic's Gentle Feminine Wash is 85% organic. It also contains aloe vera, along with lavender and chamomile. Again, it's very popular with customers, with one saying, "Fresh scent and gentle on the lady garden! What else can I say :)"
Ready to make the move to an eco-friendly period? Head this way…
This content was originally published here.